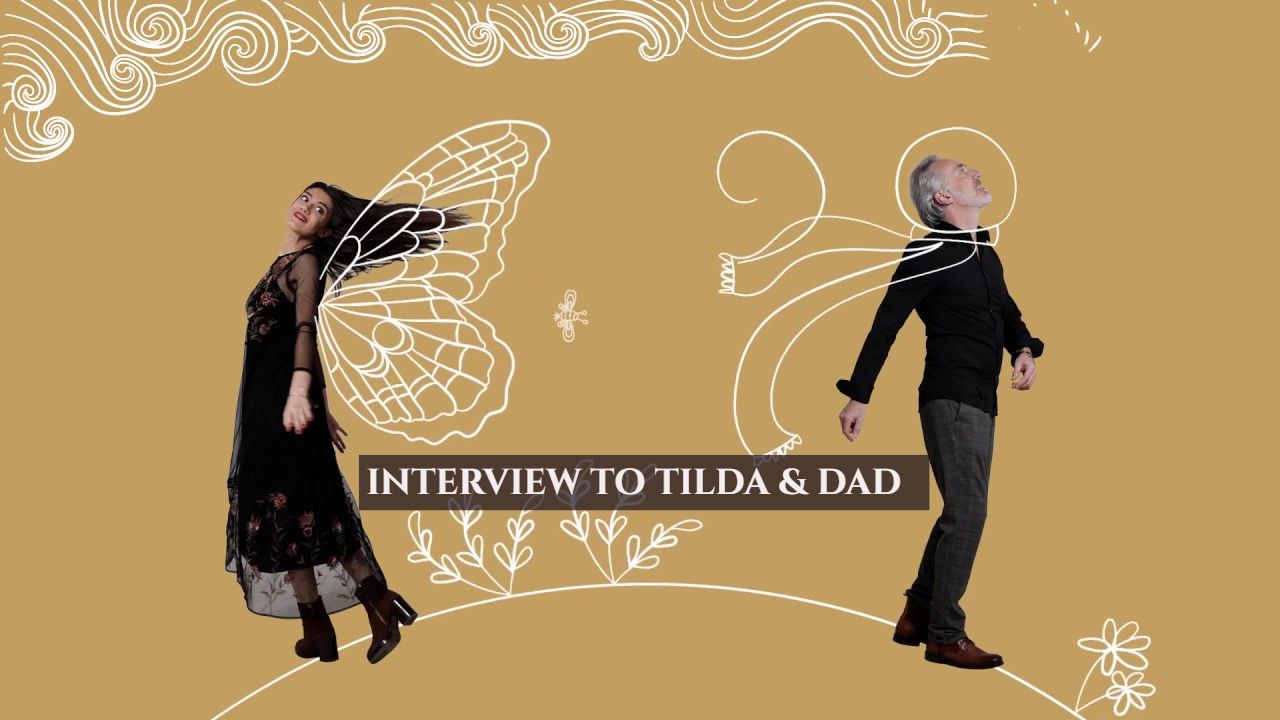 Magic appears with a single glance: the convincing touch of DAD on his guitar, looking at her daughter in a gently protective way and imagining her soul dancing while she sings. You could definitely tell they're special because their father-daughter relationship is absolutely unique: pieces of their souls are linked in a single one, where DAD's melody meets TILDA's sweet voice. Their bond is powerful, stronger than anything else; when it comes to making music they just listen to their hearts, beating in a very symbiotic way. Their musical journey began to take shape 5 years ago. With the album "Forever Bees", you will find their bond among those notes but- besides that- you will figure out how much life is worth it, how much YOU are worth it, having to get away from toxic people who don't deserve our pure hearts. TILDA & DAD's music is real energy, the expression of true love. Honestly we need to learn so much from them and I think their songs teach beautiful lessons.
We are pleased to interview Mathilde and Emmanuel Perrin who agreed to answer the questions of L'Ambidextre.
Stefania Netti
______________________________
Mathilde and Emmanuel, let's go back to the start: how did your passion for music begin?
DAD: My passion for music finally started very late (around age 12) when I heard the Beatles' song "Help!". My parents only listened to Brassens and J.S.Bach at home. I found this old vynil in the middle of the other records and it was an incredible revelation! What an emotional shock! I took 2 years of classical guitar lessons, then created my first rock band with Alex, my brother, on drums. After a second experience in a band with more psychedelic accents, it's in 1986 that we join the band Le Voyage de Noz with Alex. It was kind of a "progressive" musical register. I played the guitar for more than 25 years before creating with my daughter Mathilde the project «TILDA & DAD ».
TILDA : As far as I can remember I like singing and dancing. We found an old video of me singing one of my dad's song when I was around two. Back at this time, I couldn't even speak correctly but music was easier to express my emotions I guess. Then I got interest in playing guitar quite late (around 15) and this is how I started to practice and improve my singing.
How did you end up forming this interesting duo? Tell us your story.
DAD: The idea imposed itself very naturally over time, without any initial desire to make it a real artistic project. We went through a series of compositions and all of this ended up forming a coherent whole as time went by. The question arose at the beginning to put only Mathilde forward as an artist: the father being just there in the shadow for the compositions, the arrangements, etc … but the idea of a father-daughter duo seduced many of our relatives.
TILDA: I think we were surprised at first to realize how good it felt to compose and play together. We were happy and it was it, but I realize I needed to let a bigger place for music in my life and it leaded to the discussion of doing a serious music project together.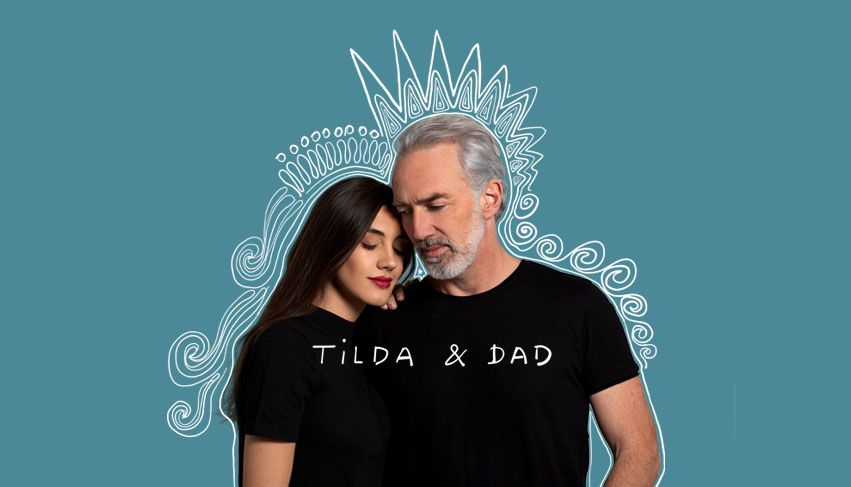 We know about your first album "Forever bees". We are sure we will find your bond among those notes but –besides that- what message would you like to express with your songs?
TILDA: I've never said to myself: "I have to deliver a message", but I'd be really happy to know that my songs can make sense to the people who listen to them. The topics covered can speak to many, I think. Generally speaking, our songs are about being free, taking control of your life and turning away from toxic relationships to be in tune with yourself.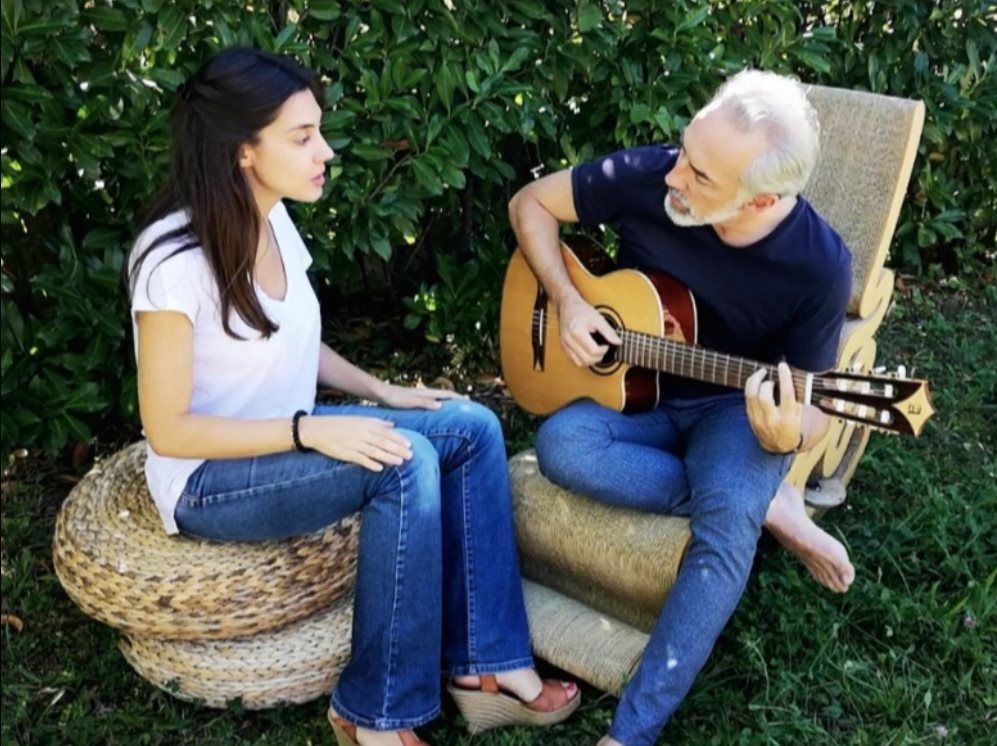 We can't help but notice the pure sweetness in your videos: it feels like music has been the perfect link between your souls. How much has music changed your life?
DAD: Music is for us a vital element that we are fortunate enough to share. It's like water for a flower… without it you wither! Music has always enriched our lives, but the reverse is true as well of course. Our life paths nowadays strongly nourish our compositions. It is the link that makes our sensitive strings vibrate in perfect harmony. No need to talk to each other. It's actually quite complicated for the people who have worked with us, especially the sound engineers, because there's very little room to exist in the middle of us. That's what the album cover says – two characters who become one! That's one of the reasons why we ended up recording and producing our songs ourselves.
TILDA: Composing music is a bit like healing yourself. It is good to feel that you can do something positive out of certain wounds and events that are difficult to accept. Music has been a way for me to accept and discover myself. I've often found myself succeeding in expressing things in music that I couldn't translate with words. This liberating effect is stronger with the use of French, my mother tongue, which resonates more deeply within me.
Emmanuel, you were the guitarist of the famous French rock band "Le voyage de Noz" for about 25 years. Is it intrusive to ask you why you chose to leave?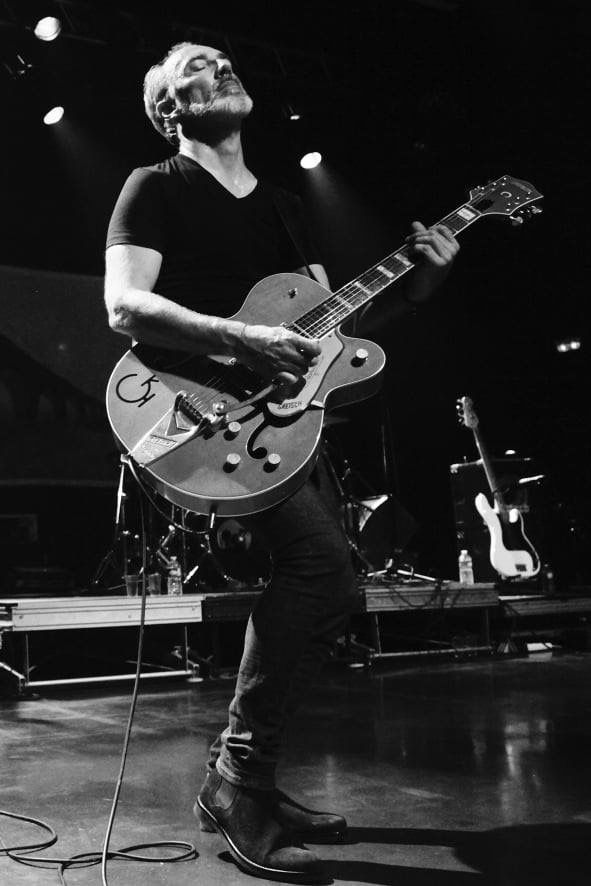 DAD: I've had some fantastic experiences with this group. Humanly speaking first of all, and artistically of course, with people I admire a lot. I learned a lot from them about the music world (concerts, studios, media…) and also about myself, but strangely enough, I've never fully revealed myself, as if I wasn't free. A band inevitably imposes concessions, so I wanted to chart my own path, the one that leads to oneself, to one's deepest nature… and on this path, what a chance, there was Mathilde! The voice and above all the soul of the journey.
A question to both: how do you imagine your future?
DAD: The first thing is to continue to create emotions, to share, to bring pleasure to people, to do good around us; beyond that, our wish – not so secret – is of course to be able to live from our songs. to play concerts and create new songs.
TILDA: Of course, I would like to be able to organize my life around this musical project. This means earning a living through music. I know that I need music in my life: if this project doesn't allow me to make a living out of it I will always continue to do it anyway.
What's the secret to a good father-daughter relationship?
DAD: The secret lies in the bond that has been forged.
TILDA: It's a really difficult question because although we have a special relationship, I don't think we can give any advice! We have the chance to get along well and to be alike in many ways in life. Of course, a good relationship is maintained through frequent and respectful communication.
Mathilde writes, Emmanuel composes. How do you manage to combine everyting in such a perfect symbiosis?
DAD: It's a no-brainer. Everything is falling into place with great fluidity.
TILDA: Yes that's right but it is also true that we need to be organized and we spend a lot of time planning the project. We communicate a lot and we call each other almost everyday when we cannot see to speak about our music.
Which Social Networks do you use and which ones are you most present on?
DAD: We're more present on Facebook, Instagram, YouTube, but to put ourselves on stage, to promote our image is not something natural for us: it takes an effort on our part, sometimes it's even a bit restrictive. We even imagined at one time, a bit like Daft Punk, never showing our faces, being in backlighting, or working with drawings and illustrations.
TILDA: I must admit that I had a particularly hard time accepting the idea of putting myself on stage. I am shy by nature and often prefer to go unnoticed, and yet I choose to make music: precisely because it allows me to free myself without any doubt, but it's true that I'm not comfortable with social networks. I still have a lot to learn about it!
How do you find inspiration for your songs? Do you ever have conflicting ideas?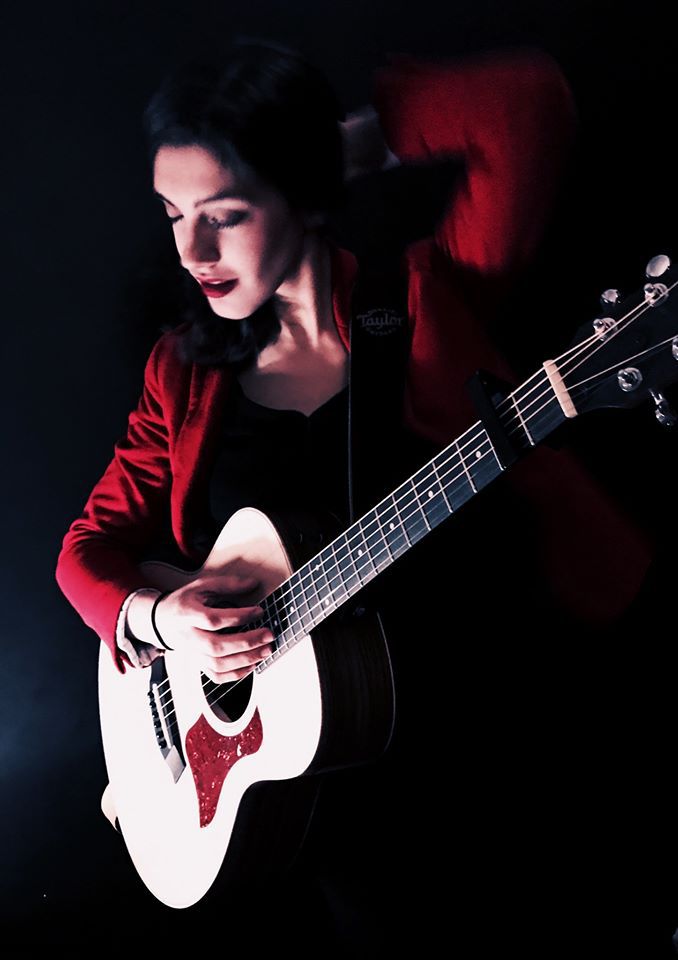 DAD: Inspiration can't be explained… it's capricious, it comes and goes with the wind. I can very well be mute for several days and suddenly find myself running to our studio to compose and record a track. I then feel like I'm being crossed by an energy, i don't control anything anymore, i let myself be carried away. As for conflicts of ideas, it's more like a very constructive exchange of ideas, like a game of ping-pong, but not an artistic confrontation.
TILDA: I make a distinction between inspiration for creating vocal melodies and inspiration for lyrics. Concerning the vocal melodies, I listen to my father play a lot and I try things until we say at the same time "Yes, that's it". So in this case I would say that I need to feel comfortable and the inspiration will depend on the mood and the energy of the moment. Concerning the lyrics, I often draw my inspiration from emotions I may have felt or emotions and events my loved ones may have experienced: the subjects of the first album were all very much focused on a need to be yourself. On the other hand, the next album to come speaks more specifically about certain events or relationships and also about love. Of course we do not always agree, but our discussions are constructive and we always manage to find compromises.
How did you experience this lockdown and how much has it affected your life? Have you spent it together?
DAD: Of course there is the dramatic and anxious side of this period: I think of those who have left us, the families who have lost a loved one, the most fragile people locked up with a violent husband or father, the single people, the most destitute… all these people have touched me a lot. And then there are all those who kept the system going – not the footballers or the traders – no, the nurses, the cashiers, the farmers, the small traders and many others… great respect for them. I liked the silence of the cities and the countryside: no cars, no planes… just the birds, the crickets, nature and animals taking their rights, time slowing down, stress fading away, walks getting longer. We were privileged in this anxiety-provoking episode because we were able to live all this in very good conditions, at home, with a piece of garden to breathe. We had the time to compose, exchange, record, etc… to advance our next album.
TILDA: We spent it together and it allowed us to move forward quietly, taking our time. This never happens to us in normal times, we're always chasing time. We tried to take advantage of this special time and move forward on our next album.
Your father-daughter relationship plays a very important role, especially for those with family problems: what kind of advice would you like to give them?
DAD: You choose your friends but not your family! We're very lucky to get along so well, to have been born under this beautiful music star that brings us together today. It's hard for us to give advice because every family situation is different and some will never get along. In general, showing empathy allows us to better understand the other person, to change the way we look at a situation, to ease tensions.
TILDA : Yes, it's not possible to give that kind of advice. We are aware that we are lucky. We try to cultivate this relationship as best we can through music.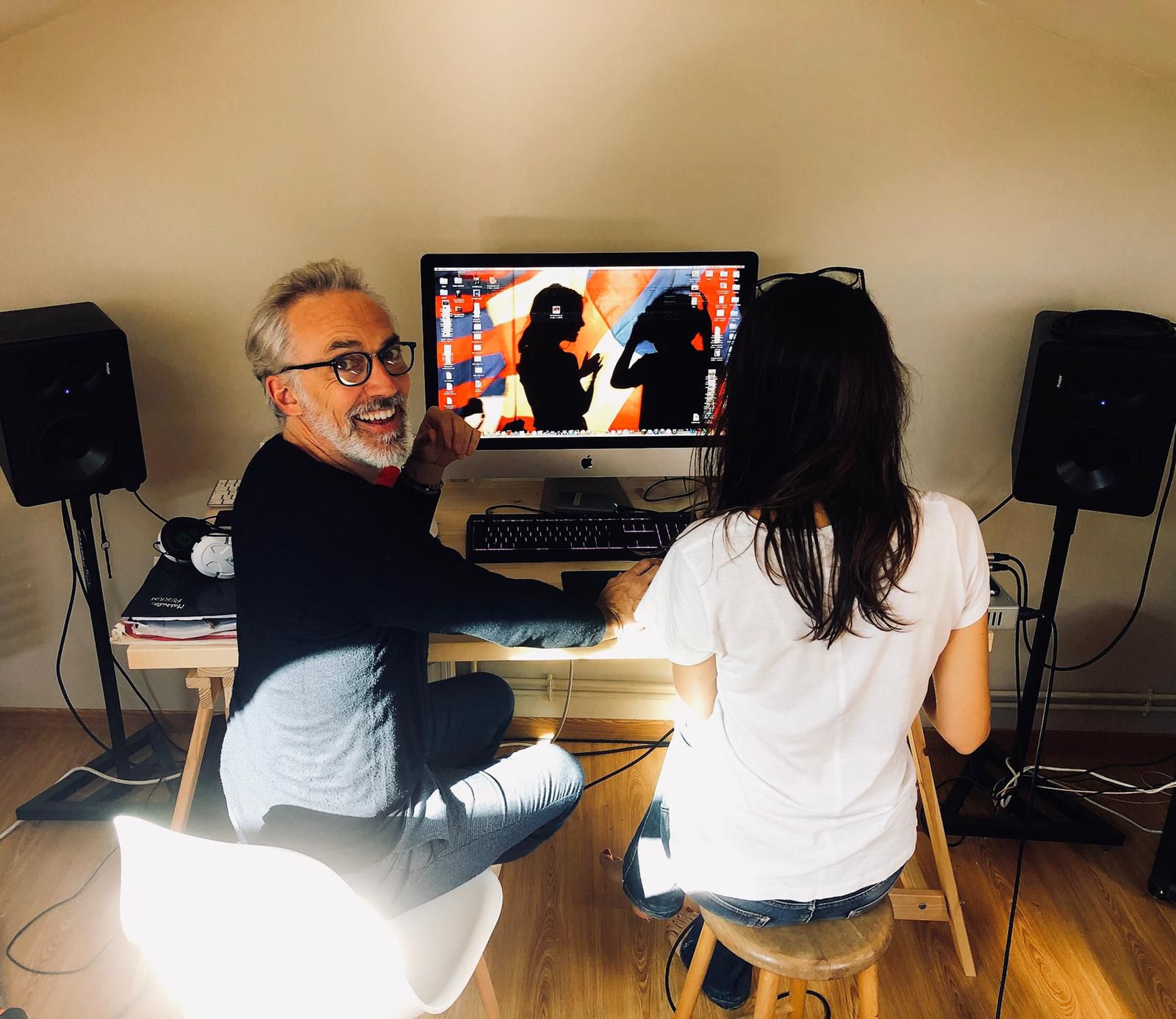 What are your next projects? Are you planning to play live?
TILDA & DAD: We want to release a new album in French soon. It would be great if the songs were illustrated with video clips. At the same time we would like to do some gigs to play our first songs from the album "Forever Bees". We would also like to be signed by a record company.
Have you ever been in Italy? Would you like to go there sooner or later?
DAD: Yes, we've already been to Italy. We visited Rome and Venice together with my two other children (who are ten years younger than Mathilde).
TILDA: Sometimes we went there on our own. We both love this country very much, but we don't know how to speak a word of Italian! We would love to go back in Italia!
If you could play live somewhere in Italy, where would it be?
DAD: The Five Lands, island of Burano, island of Vulcano.
TILDA: Everywhere!
🎤 Lyrics: TILDA & DAD – Break the rules
[Verse 1]
I can't whisper anymore
I want to live even more
I can't whisper anymore
I need to breathe more and more
[Chorus]
I break the rules
And I cross the line
Everyday when I feel fine
Hope someday, you will understand
You need to be as free as I am
I break the rules
And enjoy the world
Everyday when I feel bold
Hope for once, you will listen to me
Embracing a new start, loving to be free
[Verse 2]
I am looking for my heaven
It's where the magic happens
I am looking for my heaven
I want to tell you…
[Chorus]
I break the rules
And I cross the line
Everyday when I feel fine
Hope someday, you will understand
You need to be as free as I am
I break the rules
And enjoy the world
Everyday when I feel bold
Hope for once, you will listen to me
Embracing a new start, loving to be free
________________________________________
© Stefania Netti – L'Ambidextre – 2020
Tutti i diritti riservati. Riproduzione vietata senza previa autorizzazione.
Stefania Netti è un'appassionata di videogiochi e scrittura. Ella è autrice del romanzo Fantasy "Freyja". Attualmente sta lavorando al suo secondo libro "Soulcity".